BOOKS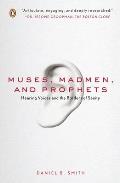 Muses, Madmen, and Prophets: Hearing Voices and the Borders of Sanity (Order: B&N, Amazon, IndieBound)
"Smith's depth of research, sparkling intelligence, and knack for collapsing the fixed borders between diagnosis and drugs on one hand and vision and inspiration on the other make this book a thrilling read." —James Hillman
"This is a learned, humane, and engrossing book, engaged in an exemplary task: to rescue the meaning of a central human phenomenon that can no longer mean what it once did. Surely Smith's voice is one we will be hearing for a long time." —Benjamin Kunkel
"Articulate, engaging, and deeply researched." —Jerome Groopman
The American Idea: The Best of The Atlantic Monthly (Order: B&N, Amazon, IndieBound)
"A glorious collection. These pieces show how the spirit of Twain and Holmes has remained alive. It's an addictive offering." —Walter Isaacson
"There is a staggering amount of good writing here and an overwhelming surfeit of ideas that bear intense relevance to today's issues." —San Francisco Chronicle
ARTICLES & ESSAYS (Selected)
"The University Has No Clothes," New York (5/1/11) — The rise of the notion that going to college isn't worth it.
"Is There an Ecological Unconscious?" The New York Times Magazine (1/27/10) — The relationship between environmental health and mental health.
"The Doctor is In," The American Scholar (Fall 2009) — Profile of Aaron T. Beck, the father of cognitive-behavior therapy.
"The Very Grouchy Daddy," Slate (10/8/09) — Tongue-in-cheek denunciation of the the beloved children's author Eric Carle.
"Escape to Dubai," New York (11/24/08) — Young American capitalists seek cover from the recession in Dubai.
"What is Art For?" The New York Times Magazine (11/16/08) — Profile of Lewis Hyde, author of The Gift and Common as Air.
"Not Strictly Platonic," Slate (6/28/07) — Review of The Maytrees, by Annie Dillard.
"Can You Live With the Voices in Your Head?", The New York Times Magazine (3/25/07) — Ostensibly an excerpt from  Muses, Madmen, and Prophets, this article contains about 90% new material.
"Political Science," The New York Times Magazine (9/4/05) — A profile of John H. Marburger III, George W. Bush's much-criticized science adviser. Marburger died in the summer of 2011.
"Transcranial Magnetic Stimulation," n+1 (Spring 2005) — On anxiety, the brain, and a novel neuropsychological tool.
"Andrew Jackson, the New Face of Modern Art," n+1 online (3/5/05) — On MoMA raising its admission fee to a whopping $20.
"The Surgery of Last Resort," Granta (Spring 2004) — A narrative of one man's desperate attempt to alleviate his obsessive-compulsive disorder with the help of brain surgery.